KAMADA
»
CLINICAL PIPELINE
»
PIPELINE OVERVIEW
PIPELINE OVERVIEW
Kamada is focusing on development of biopharmaceutical products. These include its intravenous (IV) and inhaled (IH) Alpha-1 Antitrypsin (AAT) protein and Rabies IgG.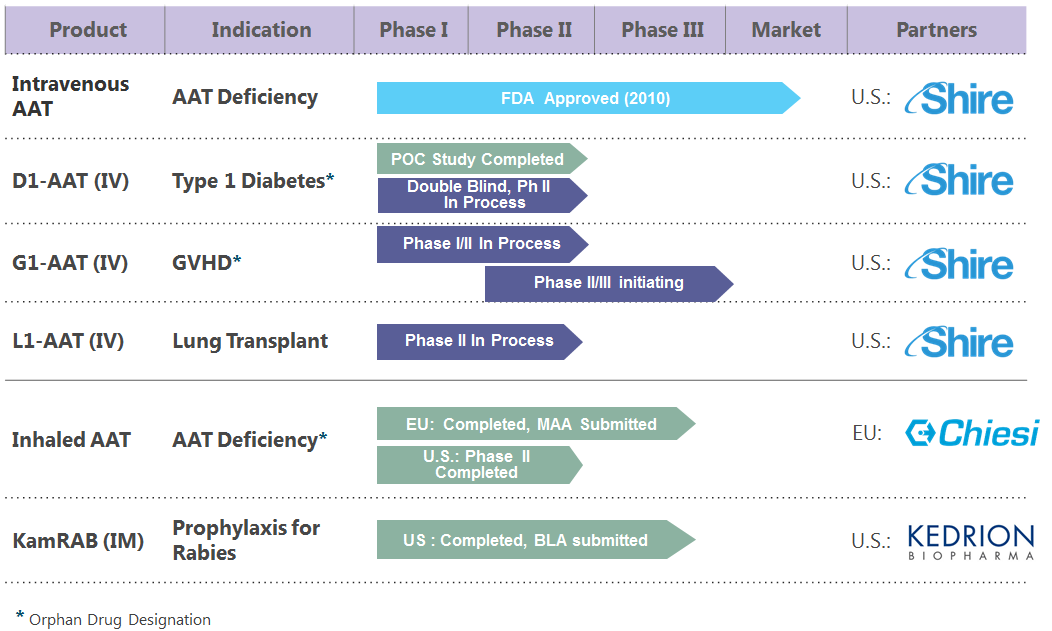 Kamada is at the forefront of clinical research for additional therapeutic indications for Alpha 1 Antitrypsin (AAT), already completed a pivotal Phase II/III clinical trial in Europe and Canada of inhaled AAT to treat Alpha-1 Antitrypsin Deficiency.
Kamada submitted Marketing Authorization Application (MAA) with the European Medicines Agency (EMA) for its Inhaled Alpha-1 Antitrypsin to Treat Alpha-1 Antitrypsin Deficiency. If approved, Kamada's inhaled AAT therapy could provide an adequate and easy-to-use answer to the current unmet medical need of Alpha-1 patients.
Kamada is also dedicated to the research of AAT and its potential therapeutic characteristics for novel indications. The company has a late-stage AAT product candidates in development, including a designated intravenous formulations for GVHD, Type-1 Diabetes and Lung Transplantation.
For its Rabies Immunoglobulin product- KamRAB, Kamada has a strategic agreement with Kedrion for clinical development and marketing in the US.
Join Our Mailing List
Latest News